This course is open for 12 weeks
13 lesson series
Certificate of completion
About this Course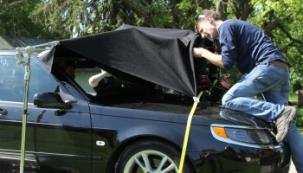 If you ever stepped foot on a movie set, the first thing you notice is all the equipment. Stands, clamps, and elaborate rigs are constructed to position the camera and lighting to get the perfect shot.
In the Grip and Rigging Course, you will learn how to use the most commonly-used grip equipment, proper rigging techniques, how and when to use clamps and stands, how to set-up dolly track and use a camera dolly, as well as the roles of the grip department from the time they get a phone call for a job to managing the politics on set.
Never look foolish opening a C-Stand or question whether to use a cardellini or a mafer again with the Grip and Rigging Course.
In order to receive certification to work in the Grip Department you must take the following online course:
Welcome to the Film Industry
Grip Department Course
Lighting Course
On Set Safety
After completing the online training, you will be emailed a password so you can sign up for the following hands-on training sessions:
After completing the online and hands-on portions, you will receive your official Level One Certification.
After competing Level One, you will receive an email to be able to move onto Level Two. If you work on five professional productions and receive positive evaluations from each supervisor, you will receive Level Two Certification.